FIRM CLUMPING & ANTIBACTERIAL
The clumping litter for antibacterial hygiene. The fine granularity also results in the formation of compact clumps that can be easily removed, ensuring economic consumption. Cat's Best Sensitive unfolds its antibacterial effect without the need for any chemical additives, using a natural ingredient that is incorporated in the litter in the form of green pearls. This makes Cat's Best Sensitive an ideal alternative to mineral-based cat litter, which is often expensive to dispose of and not readily biodegradable.
Cat's Best Sensitive also uses the natural power of refined active wood fibres, which effectively absorb liquids and odours - up to seven times their own volume - and trap them deep inside. This neutralises odours so effectively that the cat litter can remain in the litter tray for up to eight weeks. Cat's Best Sensitive functions best when you regularly dispose of the solid excretions and compact clumps that form after the cat has used the litter tray – using an original Cat's Best special cat litter shovel, which contains just the right hole spacing for the grain size. This saves time and costs and ensures the type of hygiene and comfort that cats prefer. Like all Cat's Best products, Cat's Best Sensitive is made exclusively from renewable raw materials, which means it is both sustainable and biodegradable.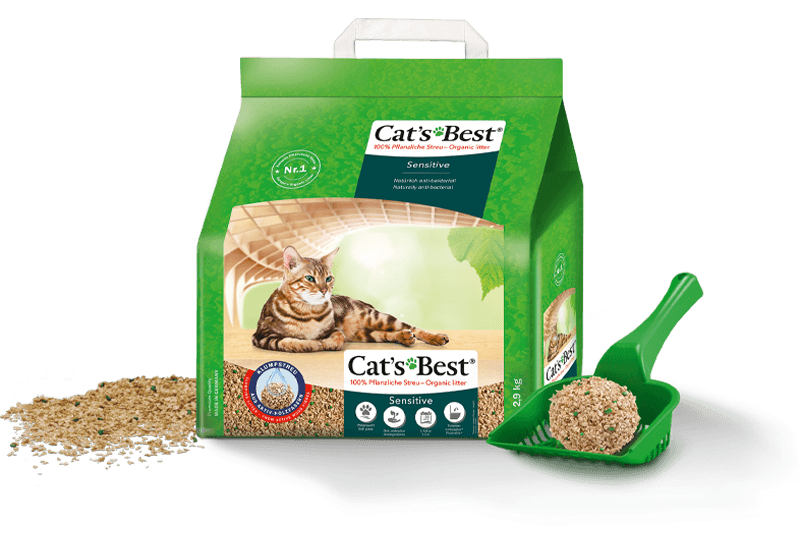 CATS BEST SENSITIVE 7.2KG
Brand: CAT'S BEST
Product Code: CA-526
Availability: In Stock
RM123.00

Ex Tax: RM123.00
QR Code
Tags: FIBRE, ANTI BACTERIAL, SENSITIVE